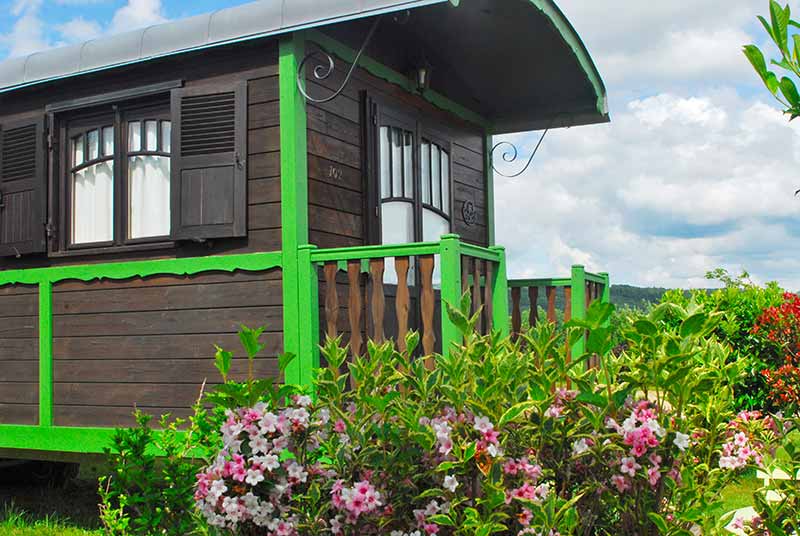 The Roulotte was from origin a house for the nomads, high on their wheels gave shelter to a homeless family. It was on one side a way of living but also a way to travel, most of the time pulled by a horse.
It's this bohemian spirit you can find in our Roulottes de Campagne. For those who want to spice up a little bit their holiday by choosing an accommodation non classic but on the other side are not into a real adventure, the Roulotte is a perfect solution! Nearby a lake, an apple orchard, or in the middle of a forest, our Roulottes will charm you by their rustic aspect with the wooden interior but will also surprise you with its modern comfort and liveability it has to offer you.
Are you looking for a 'bohemian chic' holiday? La Roulotte de Campagne is made for you !
Unique holiday
Discover this accommodation in these villages
VILLAGE TOUE DES DEMOISELLES
Chavannes (03)
Situated on the border of the Auvergne and Burgundy, next to the Loire, Village Toue du Domaine des Demoiselles welcomes you for a holiday with all comfort provided in the heart of preserved nature, Natura 2000. He owes his name to the dragonfly 'Demoiselle' who loves flying around in the summer. As a relaxing holiday place, this village fits perfectly with couples, families or friends: detox holiday guaranteed!
+
VILLAGE DES MONÉDIÈRES
Chamberet (19)
It's in the Corrèze, at Chamberet, on a lovely, hilly and green site, next to a lake where Le Village des Monédières opens his doors for you. With his ecological accommodations, all made of wood, in the middle of an orchard, here you live in a perfect harmony with nature for a unforgettable and relaxing holiday. Your stay in the Limousin will be placed in the category of relaxation and will give you the possibility to experience the bohemian life, a breath of fresh air in de the daily life.
+
VILLAGE DE LA CHAMPAGNE
Bar-sur-Aube (10)
The Village de la Champagne invites you for a glamping holiday, in the middle of a forestry landscape, just a couple of minutes' walk from the centre of Bar sur Aube and his shops. You will appreciate the variety of glamping accommodations they propose: Caravans, pods, cabins, etc. but also the composure of several places and the quality of services offered on site: sauna, indoor heated swimming pool, regional specialties, etc.
+