Unusual accommodation
Caravan holiday rental
If you think holidays should rhyme with nature and modern facilities then look no further than the premium caravan holiday rental! Take a welcome break from your humdrum routine during an unusual stay in a quirky and modern caravan. A comfortable and fully-equipped wood caravan: the perfect way to take the time to re-energise! It also comes equipped with a television, unlike the classic caravan holiday rental.

Spend a night in a cosy caravan for an unforgettable trip
Treat yourself to a rustic trip in one of our premium holiday caravans and take a leaf out of the gypsies' book during a nomadic stay. Our caravans take inspiration from the nomadic way of life and will give you the luxury you deserve whilst fulfilling your desires for new horizons.
Whether you're after a romantic escape in the country, cuddly weekends away with friends or an original trip with your family, the premium holiday caravan will have something for everyone!
Combining cosy and modern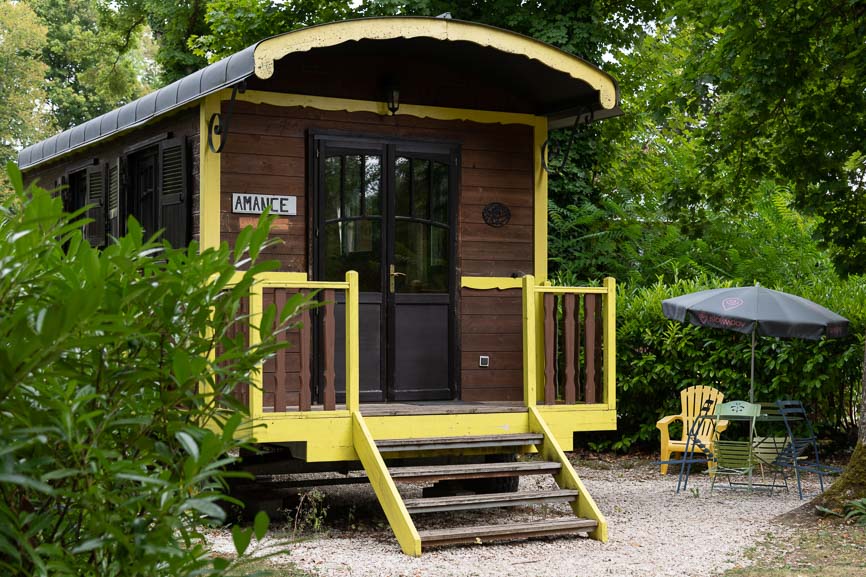 Our caravan holiday rentals are perfect for a family of 5. They have 18m2 of space available and can host up to 5 people comfortably. The perfect size to be able to spend quality time with your loved ones, with the option of having your own space too.
The inside of the caravan is skilfully designed: a raised alcove bed as a cosy nest, and 2 sofa beds plus a pull-out couch will turn the living room into a sleeping area.
The kitchen is fully-equipped for family meals, but you can also order one of our delicious local baskets if you would rather experience the local products!
The premium caravan holiday rental also comes up a TV if you fancy curling up under the covers with a movie!
Where is the premium caravan holiday rental?
This modern-day caravan can be found in the heart of our village in the Champagne region, in Bar-sur-Aube. Venture off the beaten track and discover the region's famous vineyards. Our holiday village is located on the Route du Champagne tourist track, a stone's throw from the Forêt d'Orient regional natural park.
And after a long day hiking through this stunning part of the world, why not go and relax by the heated and covered pool? There is a common games room for the children to enjoy. Wait no longer to book a relaxing and cosy trip!