Unusual accommodation
Hotel caravan
Greenery, comfort and peacefulness are the magic words during this unusual holiday. And the magic starts in this stunning 4-person hotel caravan. It's the perfect chance to take a quiet break from your daily routine for an unforgettable stay!
Our caravans combine the best of both worlds with wanderlust and the comforts of a hotel room.

Take an original trip to reconnect with nature
Do you need a relaxing but original getaway? Why not come and re-energise in our comfy and quirky hotel caravan.
The Hotel Caravans offer a more welcoming experience than a normal hotel room and are the perfect size for a family of 4. Feel the wood floor creaking softly under your feet, the light smell of wood and the sounds of nature nearby… It's an ode to nature without compromising on the comforts of a hotel room.
The large double bed and two twin single beds are separated by a dividing wall for more privacy. As a bonus: The beds will already be made when you arrive, just like in a hotel.
The caravan also comes with its own bathroom. Just like in a hotel, there is no kitchen area but you'll find a mini-fridge and coffee & tea corner for your cosy break time. The electric heating will keep you warm in the cooler autumn nights.
Where can I find the Hotel Caravans?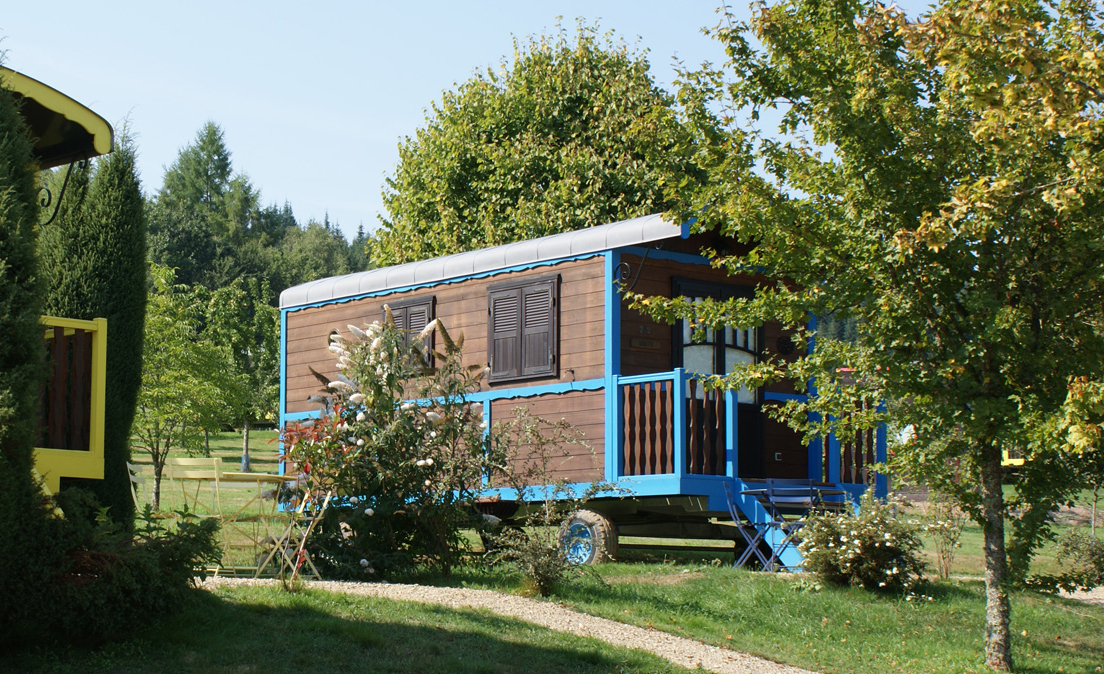 The hotel caravans can be found right in our holiday villages. They are set up to meet your every need and are close to a wide range of fun activities.
Treat yourself to a few days away at the Monédières village in Corrèze and take a cool dip in the pond. Our hotel caravans are a mere stone's throw away from the stunning arboretum. Relax in Limousin's stunning countryside.
If you would rather visit the vineyards, take a look at our hotel caravans in the Champagne village, in Bar-sur-Aube.
Come and explore this beautiful wine-growing region or enjoy some peace and quiet in the sauna or indoor heated pool. Book now for an enchanting stay in one of our holiday villages!