Fully adapted to the modern dynamic of these days 'glamping', Slowmoov proposes you accommodations all from wood (caravans, pods, cabins, boats, etc.) fully equipped and with respect for the environment, in the heart of preserved nature. Your stay in one of our villages will give you the possibility to leave the created paths and enjoy an amazing holiday in the countryside.
Unique holiday
Village des Monédières
Come and explore the Monédières village for a trip combining camping in Limousin and charming hotels in a stunning natural area. Check out the jewel of Corrèze for an unforgettable rustic getaway!
We have plenty of unusual accommodation options for you to choose from for a chance to reconnect with nature, nestled between the woods and the streams. The Monédières village is the perfect starting point for the countless hiking trails that weave through Corrèze. Treat yourself to a breath of fresh air!
The region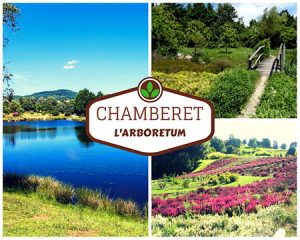 The Village des Monédières is located in Chamberet, in the centre of the Plateau de Millevaches regional natural park in Limousin. Less than an hour's drive from Limoges, it is the ideal location for our holiday village, which combines relaxation and a change of scenery.
The Causses and surrounding forests in Corrèze will delight nature lovers. The region is perfect for a holiday away from city life, to reconnect with nature and just take the time to relax. The local cuisine is just another bonus that will convince you to spend your next holiday here!
The Village

The Village des Monédières is beautifully laid out on the rolling hills, between a stunning arboretum and a lake. When you arrive you'll be able to enjoy relaxing on the water front and explore the secrets hidden in the Maison de l'Arbre et de la Nature.
If you want to relax, look no further: indoor heated pool, sauna and playground for the children so everyone can switch off. You can also rent some bikes if you would rather explore the surrounding areas by bicycle!
What to do / to see in the surrounding area
Nature lovers assemble: Corrèze is brimming with hiking trails! Adventure awaits, on foot or by bike! Walkers will love the undergrowth and the Plateau de Millevaches!
The Sports Nature Corrèze leisure centre at the Bariousses lake is just a stone's throw from the Village if you're in the mood for some pedalo, canoe/kayak, stand-up paddle boarding and other water activities. The perfect way to cool down in the summer. The Chamberet tree-climbing course will be an adrenalin-pumping day for young and old!
Ask one of the team for recommendations on local activities and events to ensure you have a memorable stay with us! Our on-site team is there to help you design the best possible trip.
Unusual accommodation
You have plenty of choice at the Monédières Village! Caravans, cabins, pods or even our famous Luxor chalet spa: you'll find the unusual accommodation of your dreams whether you're coming as a family, a couple or with friends. You can even stay on a boat if you rent one of our quirky over-water cabins.
Whether you're a minimalist or enjoy the finer things in life, there's something for everyone! Whichever option you go for, you'll find that all of our lodgings are well-equipped and thoughtfully decorated, with eco-friendly designs. We'll see you in Corrèze for a relaxing and original glamping experience!
Your glamping escape, just a click away !
Unique holiday
Our glamping accommodations