unusual accommodation
Bohemian caravan
Looking for break in the country? Look no further than the cutest of our nomadic cabins for a cosy escape. The Bohemian caravan is an unusual holiday experience combining quirky escape with cosy atmosphere. Come and enjoy an unforgettable weekend surrounded by nature and book one night or more in one of these wonderful caravans!

Unusual accommodation immersed in nature
The bohemian caravan is inspired by the nomadic way of life and is perfect if what you're looking for is a unique change of scenery. It's even said that it'll take you along the gypsy roads in your dreams…
This caravan is ideal for a couple or small family but it can also be booked as part of a wider booking. Take a look at this cosy nest for an original and charming escape!
An unforgettable stay in a wood caravan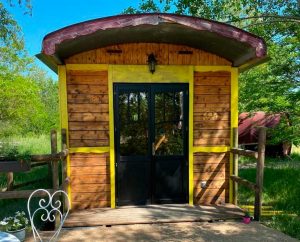 The bohemian caravan has a large 18m2 living area and can host up to 3 people. It's just what you need for a romantic getaway romantic getaway or to enjoy an unusual holiday experience with your child. A soft introduction to the joys of glamping!
Our bohemian caravan is also accessible to people with reduced mobility. A person with disability will be able to easily move around the spacious rooms. You can get to the caravan via a ramp, unlike our other caravans that are perched at the top of a flight of stairs. You can also leave your car parked at the front of the bohemian caravan to make it easier to access.
The kitchen and living room are fully equipped with anything you'll need to cook and relax with your loved ones. All you need to do then is enjoy a cosy night in one of the three soft single beds in the caravan. Coming as a couple? No problem – the pull-out bed can be raised to the same level as the bench to form a double bed. There is also a spacious bathroom.
Where is the bohemian caravan?
Get away from the beaten tracks around your bohemian caravan and venture out into the outstanding Champagne countryside. You will find our Bohemian Caravan in the Champagne village.
Take a walk through the stunning surrounding villages, and retrace the steps of creating the famous Champagne wine. Our Champagne Village is located in Bar-sur-Aube, nestled between vineyards and forests.
After a long day out and about, remember to come and enjoy our heated and covered pool before heading back to relax in your bohemian caravan. Let nature re-energise you!