Unusual accommodation
Troll Bivouac Hut
Escape to a green oasis during an unforgettable stay in the Troll Bivouac Hut. Get back to basics: minimise the superfluous and just enjoy the great outdoors! This wood hut is perfect for glamping enthusiasts and is the Troll Cabin's comfy younger sibling.

An unusual accommodation option perfect for adventurous couples
Come and enjoy an original stay in the Troll Bivouac Hut. This wood hut is just what you need for a romantic night away to re-energise! The magic word for this unusual hut is minimalism, ideal for camping fans who want a more comfortable option.
It's perfect for a couple or two friends. When you book a stay in the Troll Bivouac Hut you can choose between a double bed, or two comfortable singles. Adapt it to your needs!
A wood hut to introduce you to the joys of glamping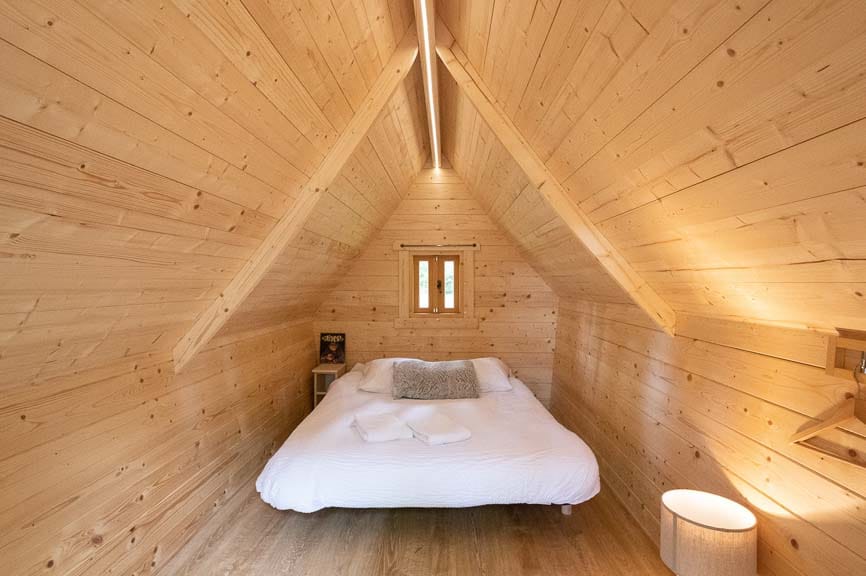 The Troll Bivouac Hut can house two adventurers in its 7m² living area. If you're looking for something for a night away, or if you wanted to experience glamping without skimping on comfort then this unusual hut is exactly that!
It has a double bed or two singles that will be made when you arrive so you can settle right in. You will find cooking facilities and a bathroom outside the hut. There is a common room if you want to cook and you can use all the equipment available!
Thanks to this original layout, you get out of your comfort zone without neglecting your privacy. Book now for a change of scenery and a peaceful getaway! You can also enjoy the sunshine on the little patio.
Where can I find the Troll Bivouac Hut?
The Troll bivouac hut was created by the forest creatures in our Champagne village, just like its bigger sister the Troll Cabin holiday rental. The Forêt d'Orient is right next door, no surprise there! Come and enjoy a romantic break in this stunning area for an exotic stay surrounded by trees and vineyards. The Route du Champagne tourist track is a stone's throw away: why not bring some of the delicious beverage back to enjoy on your private patio?
The holiday village has just what you need to relax: pool, sauna, common room and even a large park with hundred-year-old trees. Wait no longer to book an unforgettable stay for two!
Unique holiday
Discover this accommodation in these villages