Unusual accommodation
The Taboo Cabin
Just picture sitting comfortably in a charming hotel room surrounded by nature and you have the Taboo Cabin. Have the ultimate romantic evening away in this little cosy nest. It's just what you need if some peace and quiet and adventure is what you're after, without having to compromise on modern lodgings!

The perfect wood cabin for a romantic getaway
The Taboo Cabin is absolute perfection for a couple's romantic escape. It comes with a fully-equipped spacious and welcoming living area. The large windows open onto nature and let the light in.
The Taboo Cabin is easy to access for people reduced mobility or with a disability. There are double doors and an access ramp for easy access to the cabin. The bedroom and bathroom are both specially designed to allow you to enjoy your stay, even in a wheelchair.
This unusual cabin has been created to be as comfortable as possible. Take a break from your routine and enjoy its nomadic charm and comfortable setting.
The quirkiest of hotel rooms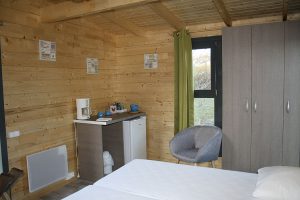 When you arrive the bed will be made and all necessary bathroom linen will be available for you to use. Look no further than the Taboo Cabin's comfortable double bed!
You will also find a fridge and tea & coffee area to take a well-earned break. There are plenty of restaurants nearby where you can go for your meals. You also have the option to make your own breakfast in the room. And why not take it outside to enjoy in the summer!
The large bathroom and Italian shower are the perfect addition to this splendid wood cabin.
Where can I find the Taboo Cabin?
You'll find the Taboo Cabin in our Monédières Village, in Corrèze. This region has a huge variety of fun activities and nature trails for you to enjoy and get a welcome breath of fresh air. Take a jaunt off the beaten track and explore the Plateau de Millevaches! The heated pool and sauna will be waiting for you after a long day hiking through the meadows and glades! The perfect romantic getaway…
Unique holiday
Discover this accommodation in this village