Unusual accommodation
Magical Hut
Definitely the most original of our little huts! Book an unforgettable trip to the Magical Hut and live out your childhood dreams. This quirky little wooden hut has jumped straight off the pages of a fairytale! If you want an enchanting romantic getaway then look no further than the cosiest of our cocoons.

An unusual stay for the ultimate change of scenery
Why not come for a stay at Tinkerbell's dwelling and treat yourself to a night in this outlandish hut. Its sloped ceiling and small crooked windows will charm you during your romantic getaway or a night out of the way that is anything but ordinary.
The Magical Hut is the smallest but cutest of our cabins. The living space is 6m² which extends on to a 4m² terrace. Just the perfect cosy cocoon to take a romantic break in the country.
A well-designed and extraordinary wood hut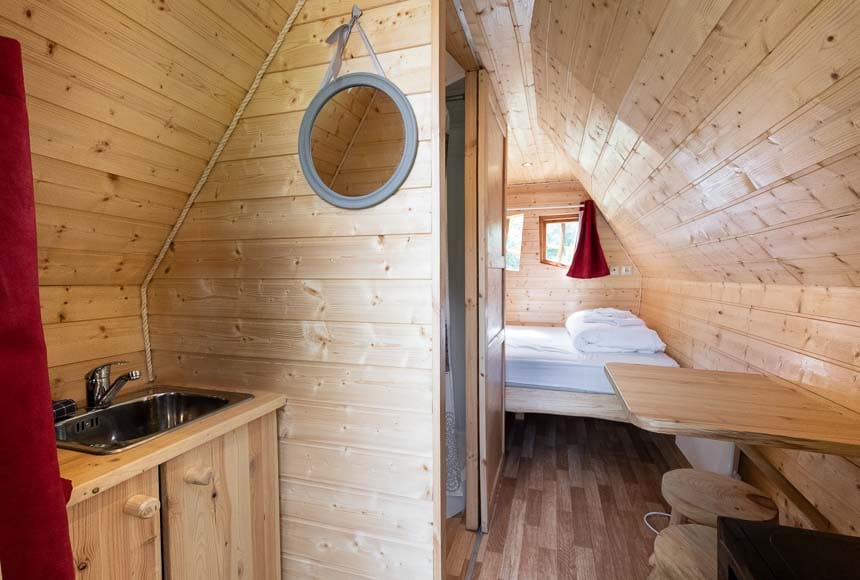 Don't be fooled by it's tiny size: the Magical Hut has been designed and equipped for a comfortable stay. The fairies who designed the hut thought of absolutely everything. Everything has a purpose and will get you back to basics without having to compromise on comfort.
The Magical Hut's full double bed will be made on your arrival. You will find a splendid kitchen area and foldable table in the small living room, so that you can enjoy a cosy break in your nest. You have everything you need to make breakfast on-site. And why not take it out to the terrace in the summer! The adorable colourful garden area is perfect for an intimate wake-up.
And if you still had any doubts at all about how talented these fairies are, they even managed to add a shower with a toilet inside this charming hut!
Where did the fairies put this Magical Hut?
Tinkerbell is an indecisive pleasure-seeker and couldn't decide between Burgundy and Champagne! So she decided to not choose at all and instead set up magical huts in two of our holiday villages.
The first is in the Toue des Demoiselles village, in Burgundy. Here you can spend an unusual weekend trip or holiday in a stunning area on the edge of a pond. The Domaine des Demoiselles is a Natura 2000 site on the edge of the Loire. It's the perfect place for some peace and quiet with its pond, Bourbonnaise farm and sweeping open glades.
The other is located in the Champagne village. This village is ideally located on the Route du Champagne tourist trail, the perfect place for an escape to nature. You're sure to have no shortage of things to do with the famous vineyards, hiking trails and nearby Forêt d'Orient. The village also has a pool and sauna for the perfect romantic stay.