Unusual accommodation
Sam's Cabin
Book your next family holiday at Sam's cabin and set off on an adventure! This unusual cabin is perfect to recharge your batteries and reconnect with nature during a memorable stay. As Sam would agree, our wooden cabins will skilfully provide you with both a welcome change of scenery and some revitalisation!

Unusual lodgings to reconnect with nature
Uncle Sam returned from his trip to America and decided to take a break in our countryside. He built a little 27 m² wooden house that can house up to 6 people. Perfect if you want a family weekend away or a trip with friends!
The lavish design and custom-designed layout make this space especially functional. Its interior layout is reminiscent of that of a boat, with its wardroom and cabins. This cabin is simply perfect to get back to basics without comprising on comfort! Take hold of the helm at the front of the cabin and onwards sailor!
The perfect wood cabin for an unusual holiday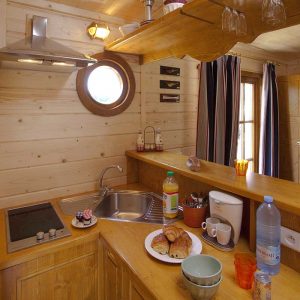 Sam's Cabin was meticulously created so that every nook and cranny has its purpose. The movable partitions reveal a cosy alcove double bed, while in the deckhand cabin there are bunk beds. The large living space is a lounge by day, and bedroom by night if you turn the bench into two pull-out beds.
The kitchen is fully equipped for you to cook your meals, along with a bar for even more fun times. A quick glance through the round sailboat-inspired windows to check the weather before heading out to the wooden terrace to enjoy breakfast.
A comfortable stay for everyone to enjoy
Sam's cabin can be found nestled in our Champagne Village, right by the bohemian caravans. If unusual accommodation is what you're after, you've come to the right place! The whole family will enjoy the large green areas, our spa corner and the games room.
If you want your holidays to come with a change of scenery, come to the Village and explore the nearby lakes, the Forêt d'Orient and the famous route du Champagne tourist track. Fancy a refill?
Unique holiday
Discover this accommodation in this village