The Over-water Cabin
The Toue Cabanée
The most aquatic of our unusual cabins! Sail off on the open sea and enjoy an unusual stay aboard the Over-water Cabin. Come and enjoy this high-quality original cabin for a night, a weekend with friends or your family holiday surrounded by the best nature has to offer.

Holiday accommodation steeped in history
Our Over-water Cabin (Toue Cabanée) is fitted out in a wooden boat which was formerly used for river transport in the Loire Valley as well as for salmon fishing. The barge was one of the very first recyclable vehicles: once it arrived at its destination, it was often completely dismantled so that its wood could be reused for building purposes.
In line with its ability to be re-purposed, we have decided to hijack it to turn it into eco-responsible accommodation 100% made in France with everything you need for a comfortable stay. Come and spend the night aboard a masterpiece of river history!
The over-water cabin offers a high standard of living on board and has been designed as an unusual and original alternative to classic holiday accommodation. The warm wood interior combines privacy and an incredible view of the surrounding area. Get a breath of fresh air!
A fully-equipped floating cabin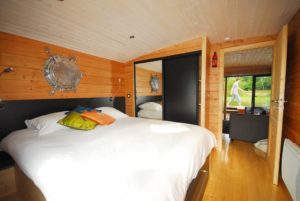 The over-water cabin is fully furnished and equipped like a Junior Suite tourist accommodation, to the same standard as a 4-star hotel room. Its 25 m² wood interior is designed to host 5 people.
It has a double bed, a 2-person sofa bed and a single pull-out bed. The bathroom is fully-equipped and you'll find everything you need in the kitchen if you want to make your meals there.
And if you like a rustic vibe, there is even a terrace on the deck for you to relax overlooking the water! The over-water cabin is a slice of heaven for anyone who wants some peace and quiet overlooking the water.
Where can I find the Over-water Cabin?
Our over-water cabins can be found in two of our holiday villages built on the water front.
The Toue village in the Domaine des Demoiselles straddles the border between Burgundy and Auvergne. This delightful little village was designed around the pond, which simply adds to its charm. You'll find several over-water cabins moored here! The hilly terrain is at the perfect spot on the banks of the Loire and is classified as a Natura 2000 zone. It's the perfect place for some peace and quiet with its lake, Bourbonnaise farm and sweeping open glades.
The second village with over-water cabins is our Monédières village, in the heart of the Corrèze countryside. This charming village is our jewel of Limousin, between plateaus and forests. Treat yourself to a stay in an over-water cabin with everything you need to relax, like the indoor pool and sauna! Book now for a change of scenery!