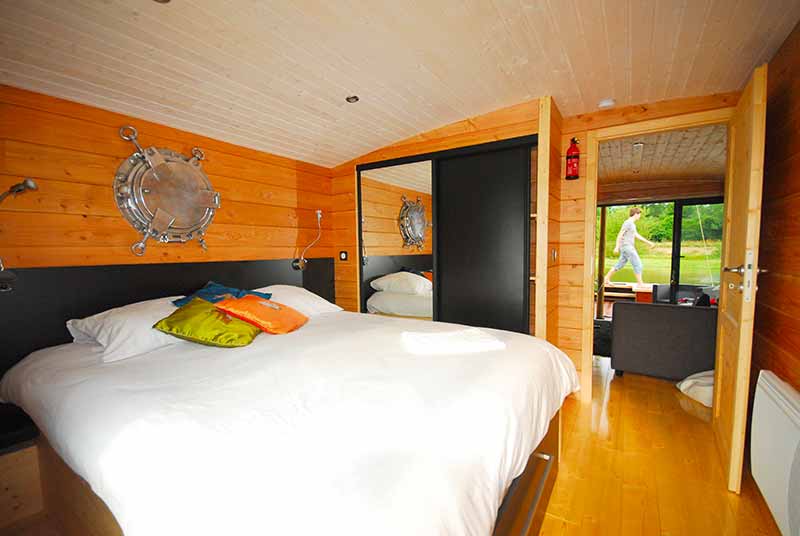 The Toue Cabanée, a boat made of wood, was used in the past for fluvial transport in the valley of the Loire but also chartered fishing on migrant species like salmon. It was also the pioneer of recycled vehicles and once arrived on destination, it was often fully dismantled so that it's wood could be used for the construction of buildings.
Today, it's in our Burgundy shipyard, in the heart of Charolais-Brionnais, we wanted to give life to the Toue Cabanée, treausure of our waterway inheritance. Made in France a 100%, totally reinvented, the Toue Cabanée now offers a luxury life on board and a new and alternative glamping accommodation. With its wooden interior design it offers a warm intimacy but also a stunning view of the nature thanks to its large French windows. Relaxing is assured on board!
Unique holiday
Discover this accommodation in these villages
Village Toue des Demoiselles
Chavannes (03)
Situated on the border of the Auvergne and Burgundy, next to the Loire, Village Toue du Domaine des Demoiselles welcomes you for a holiday with all comfort provided in the heart of preserved nature, Natura 2000. He owes his name to the dragonfly 'Demoiselle' who loves flying around in the summer. As a relaxing holiday place, this village fits perfectly with couples, families or friends: detox holiday guaranteed!
+
Village des Monédières
Chamberet (19)
It's in the Corrèze, at Chamberet, on a lovely, hilly and green site, next to a lake where Le Village des Monédières opens his doors for you. With his ecological accommodations, all made of wood, in the middle of an orchard, here you live in a perfect harmony with nature for a unforgettable and relaxing holiday. Your stay in the Limousin will be placed in the category of relaxation and will give you the possibility to experience the bohemian life, a breath of fresh air in de the daily life.
+