Unusual accommodation
The POD
If you're looking to get back to basics without skimping on comfort, then why not give glamping a try in one of our pods! This quirky cabin is the perfect option for a romantic getaway, it even comes with a bed for a comfortable alternative to the traditional camping experience.

Unusual stay in a cosy cabin
This charming wood cabin is perfectly integrated into its surroundings to fully immerse you in nature. The Pod is built using natural building materials and is equipped with modern amenities with electricity and heating. It's a great middle ground between camping and a normal hotel room!
Hikers will be sure to love this Pod, nestled away discreetly in its surroundings, ready to put your feet up after a long day walking in the sunshine. Travellers passing through will also be able to enjoy its comfort for an unusual night away.
A well-designed little hut!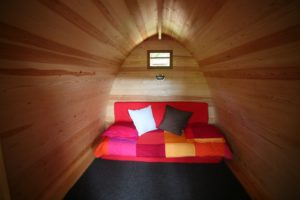 The interior of this originally-built adorable wooden hut measures 6m². The pod comes with a double bed, making it the perfect size for a couple but can be turned in to two single beds. Each pod offers some privacy and its wooden structure will keep you warm.
Don't worry about keeping warm in the late autumn: the Pod comes with electric heating, unlike sleeping in a tent! You can also enjoy the sunshine on your little private patio.
You'll find everything else you need outside the Pod. The shared bathrooms are available for you to use in the holiday village, where you'll also find a common room to make your meals. It is fully equipped for you feel right at home!
Where are the Pods located?
The Pods can be found in two of our villages for now.
The first is in the Monédières Village, in Corrèze. This charming holiday village is located in the Limousin countryside, right next to the countless hiking trails that traverse the region. Treat yourself to an enchanting break on our water front. The Village also comes with an indoor heated pool along with a sauna, to make sure you are fully relaxed.
The other Pods can be found in the Champagne Village. This Village is located on the Route du Champagne tourist tracks and is the starting point for many of the hiking and cycling routes. Let yourself reconnect with nature between the vineyards and the forests! You can also enjoy the Aube lakes nearby, or our on-site pool. The best glamping has to offer!