Unusual accommodation
The cask
Take a look at one of the quirkiest of our accommodation options!!! Whether you're in the mood to explore the Burgundy vineyards or to walk the Route du Champagne, what could be more natural than staying in a barrel! How's that for an unusual holiday idea?

The most viticultural of our accommodation options
The cask is a large-capacity barrel originally used to store alcohol and is here to offer you an unusual alternative to more traditional accommodation. The Nuits Saint Georges wines used to occupy this space for years!
The barrel is made entirely of wood and fully equipped for you to enjoy the cosiness of a charmingly unusual hut. We have partitioned and fitted it out so that you will have everything you need for a short stay.
It's the perfect choice for a themed romantic getaway! After visiting the cellars or strolling around the surrounding vineyards, treat yourself to a romantic night in one of these typical barrels!
What will I find in the cask?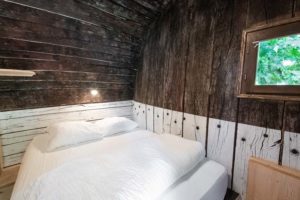 The cask has a surface area of 6m², which can accommodate two people. The double bed is nestled in the corner of the barrel, surrounded by its round contour to give you the feeling of being in a cocoon. The bed will be made when you arrive.
Everything has been set up so that all you need to do is enjoy your stay: the cask even has a shower, sink and toilet. You will also find a tea and coffee corner, along with a mini-bar and micro-wave for refreshments.
And since you will undoubtedly have brought back a good local bottle from your travels through the vineyards, why not enjoy it on your adjoining patio?
When can I find the cask?
If you're staying in a barrel then you're in the wine-growing region! Therefore our cask lodgings can be found in our villages in two of the most stunning wine-growing regions France has to offer: Burgundy and Champagne.
You'll find a cask in the Domaine des Demoiselles village in Burgundy. This splendid holiday village is located near the Burgundy vineyards for you to enjoy a peaceful getaway on the edge of the Loire river. It is on a Natura 2000 site, and its body of water will provide unparalleled relaxation. You will find a spa barge on-site with sauna and jacuzzi for you to enjoy after your daily activities!
In the Champagne village you'll find us on the Route du Champagne tourist track. Treat yourself to a bike ride or hike around this famous part of the world! You'll find plenty of wine-growing estates offering tastings and tours. You can also enjoy the pool or sauna at the Village once you get back from your day exploring our beautiful region.