Unusual accommodation
The Luxor Chalet
Book a family getaway to reconnect with nature for a cosy weekend in the Luxor Chalet. This luxury chalet is the perfect homey nest if you just want to relax and spend some quality time with your loved ones. The wooden decor and premium amenities are exactly what you need!

The perfect luxury wood chalet for a family holiday
Let the Luxor Chalet take you far from the hustle and bustle of the city for a cosy break. It was specifically designed for large families or groups of friends who just want to spend a few days together in the same place, without compromising on comfort.
The jacuzzi on the upstairs terrace with a breathtaking view and the large spacious living areas are just what you're looking for in a rental. This Chalet is the perfect place for a rustic family break!
Its large 35m² living space is ideal for 8 travellers. Everyone would have their own space and privacy and can spend time together in the luxury shared spaces.
A fully-equipped holiday rental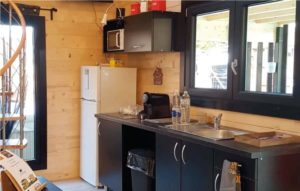 The Luxor Chalet has 4 bedrooms, including two with double beds and two with two single beds. So you can play around with the configuration depending on your group!
There are also two bathrooms, perfect for a large family. The large fully-equipped kitchen is where you can make yourself at home and cook up a storm! You can then eat your meals inside together in the large dining room/living room, or on the 19m² patio.
Outside you'll also find a 19m² solarium where the high point of this Chalet is located: the private jacuzzi. The solarium is perfect for spending a night gazing up at the start for the astronomy lovers out there.
Where can I rent the Luxor & Spa Chalet?
You'll find our fantastic state-of-the-art Luxor chalet in the Monédières Village, surrounded by the Corrèze countryside. Our chalet is in the perfect spot to enjoy a nature-filled break, in the middle of the woodland and the starry sky.
The Monédières village is right by a pond for a peaceful time-out. The Village also comes with an indoor heated pool along with a sauna, to make sure you are fully relaxed post-jacuzzi. The region is brimming with hiking trails for those of you who want to explore the surrounding areas, before getting back to warm up in your stunning wood chalet. What are you waiting for?
Unique holiday
Discover this accommodation in these villages