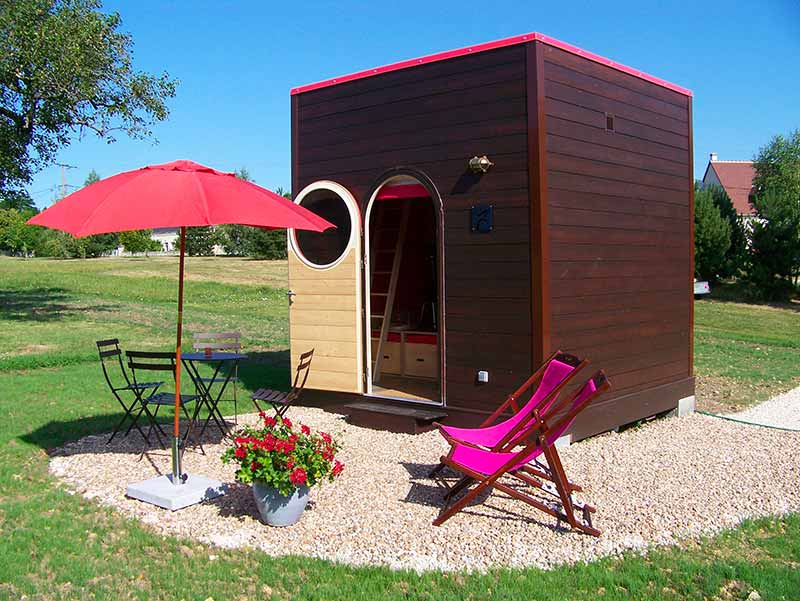 The carré d'étoile can be captured in one sentence, a mini accommodation with a maximum comfort!
Upon entering the air-conditioned 9m2 cube, you will be surprised by the intelligence of the interior decoration. Here you can move the walls to make appear the kitchen or the shower.
Climb the ladder and discover the bed on the mezzanine, with a large window in the roof for a night of cocooning under the stars.
This accommodation fully made of wood is ideal for those who want to keep both feet on the ground but their head in the stars!
Unique holiday
Discover this accommodation in these villages
VILLAGE DES MONÉDIÈRES
Chamberet (19)
It's in the Corrèze, at Chamberet, on a lovely, hilly and green site, next to a lake where Le Village des Monédières opens his doors for you. With his ecological accommodations, all made of wood, in the middle of an orchard, here you live in a perfect harmony with nature for a unforgettable and relaxing holiday. Your stay in the Limousin will be placed in the category of relaxation and will give you the possibility to experience the bohemian life, a breath of fresh air in de the daily life.
+
VILLAGE DE LA CHAMPAGNE
Bar-sur-Aube (10)
The Village de la Champagne invites you for a glamping holiday, in the middle of a forestry landscape, just a couple of minutes' walk from the centre of Bar sur Aube and his shops. You will appreciate the variety of glamping accommodations they propose: Caravans, pods, cabins, etc. but also the composure of several places and the quality of services offered on site: sauna, indoor heated swimming pool, regional specialties, etc.
+