Unusual accommodation
The star-gazing cube
Who hasn't dreamt of sleeping under the stars? Just picture the sky being your blanket and making wishes to every shooting star. This is what you can expect with our Star-gazing Cube accommodation option, which gives you the starry sky without skimping on comfort! An inventive unusual cabin for two, perfect for couples who would like to gaze up at the stars without leaving the comfort of their bed.
A cosy night under the stars
Le Star-gazing Cube is one of our cosiest and most unusual accommodation options: a pretty cube shaped hut, cleverly designed to provide you with all the comfort of the great outdoors! You can expect to have a skilfully well set-up area of 9m² at your disposal.
What are you waiting for to climb into your mezzanine double bed? Just above your bed, you'll find a large glass dome that has been designed for the cosiest of evenings under the stars.
This is the ideal cabin for those of you who enjoy having their head in the stars, with their feet planted firmly on the ground!

What you can find on board
Once you step inside your cube, you'll find the bright living corner and equipped kitchen area. We've set up everything for you to be able to make your own breakfast or an intimate dinner. Surprise!
A door slides open and a shower appears. We've left nothing to chance for your comfort, so you'll also find a separate toilet. Shift your gaze upwards to the double bed, nestled under the dome. You'll also be able to make yourselves at home with the cleverly-arranged storage space around the cabin.
Outside you'll be able to fully enjoy the sunshine. There's a 6m² patio with table, chairs and parasol. All you need to do is enjoy your romantic getaway!
Amenities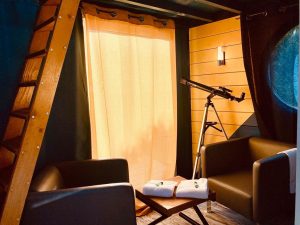 Our star-gazing cube is fully air-conditioned, so you can spend your starry nights in the cool during summer, and the warmth if you would rather visit us in the off-season. The kitchen is equipped for two people, with all the crockery necessary for a short stay.
All linen is provided and your bed will be made when you arrive. And last but certainly not least, you'll be able to use a telescope in the Star-gazing Cube, an option that is not available in any of our other unusual accommodation options! All you need to do is find the Big Dipper…
Where can I gaze at the stars in a Cube?
You'll find our Star-gazing Cubes in two of our holiday village sites.
The first one is in the Monédières village, in Corrèze. It's the perfect getaway idea if you're after a nomadic break from the hustle and bustle. The cabins are scattered among our fruit trees, across a superb hilly terrain on the edge of a pond. Just what you need for a night away or a romantic weekend break!
In Champagne, our village can be found surrounded by the vineyards, just on the edge of the forest. There you'll find the Star-gazing Cube to enjoy the Champagne skies. What could be more romantic than enjoying a drink under the stars! Book now for an unforgettable stay!